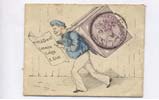 DeMontfort Stamps
Browse Our Current Lots
to Place a Bid
De Montfort Stamp Co
PO Box 6
Thurnby Leicester
LE7 9ZU
England
Telephone and facsimile
0116 241 9796
(24 hour answer machine)
Telephone and facsimile international
+ + 44 116 2419796
E-mail
web@demontfortstamps.co.uk
De Montfort Stamp Co was formed in 1995 by Martin Taylor as a form of therapy for the constant pain he suffers from his neck and spine injuries. The first postal auction was in October 2001 and the business has grown considerably since then with over 750 catalogues being distributed through out the world for each postal auction and lots from over 40 different vendors in each postal auction.
De Montfort Stamp Co specialise in stamps, postal history, revenue material and postal stationery of Great Britain and the British Commonwealth for the period 1840-1952 (Queen Victoria to King George VI)
We hold 9 postal auctions a year which include material for the above period plus some non Commonwealth and more modern Queen Elizabeth II material with lots starting at £1.
If you have material you wish to sell or include in a future postal auction please contact us for details of our services or visit our terms and conditions section for further details.